Physical Activity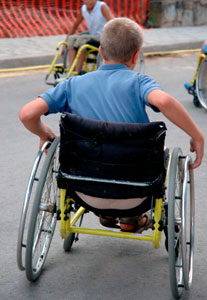 Active Lives Survey data indicates that 40% of children in Swindon did not achieve the NHS recommendation of 60 minutes of physical activity per day and that this may have risen to 70% in 2020-21*. Encouraging children and young people to be physically active is good for their emotional and wellbeing as well as helping to maintain a healthy week.
There have been some innovative projects to break down barriers to physical exercise for pupils. If you're school has good practice to share, we would love to hear from you and include a case study on this website.
*Note that this data was obtained during the pandemic.
Support and resources for schools
See support and resources for active travel on our travel to school page.
The Daily Mile helps children get fit by running, jogging, wheeling or walking for 15 minutes every day in school or early years setting.
The Swindon Physical activity Framework has been designed to support schools reduce levels of inactivity, increase regular participation in all types of physical activity and contribute to better academic achievement with a healthier and more active local community. Download the physical activity framework here.
Wiltshire and Swindon Sport is available to support schools with a list of approved coaches and provides a host of resources for primary and secondary schools. They also run the School Games and Pupil Voice programmes, which several Swindon schools are signed up to.
Families can be encouraged to take part in 10 Minute Shake Up games – Healthier Families - NHS (www.nhs.uk)
Based at Kembrey Park, Iprovefit provides sport/physical activities/PE/fitness/interactive games/exercise and movement. More information about the services and how to refer pupils is available on the Swindon Local Offer website.
Information about local junior parkruns is available via the Wiltshire and Swindon Sport website.
Nuffield Health is offering fun and free weekly fitness classes for girls aged 11-16 at St Paul's Church and Community Centre, Tuesday's 4:30pm as part of their Move Together Programme.These sessions are designed and run by Nuffield Health fitness instructors, for young girls to build strength, confidence and get them moving! For more information click on the following link: https://www.nuffieldhealth.com/movetogether
Other activities can also be found on the Wiltshire and Swindon Sport website.
The Active-6 research project looked at the impact of the COVID-19 lock-downs on the physical activity of children and their parents. Explore the plans and modules on their website for findings and for ideas on what can be done to support child activity. More information about the research and recommendations is available via the Youth Sports Trust website.
Active and Inclusive Swindon is a community website, which aims to compile an up-to-date list of all inclusive and disability physical activity sessions in Swindon for children and adults.
Get Set is the British Olympic Association and British Paralympic Association's youth engagement programme. It was originally created as the official London 2012 education programme. The 2023-2024 campaign is Path to Paris. Free teaching resources can be found on the Get Set website. and the UK Anti-Doping website.
Further national guidance and policy
Get Active: a strategy for the future of sport and physical activity (2023)
Top tips for embedding physical activity in your whole school | OHID School Zone
Physical activity guidelines - GOV.UK (www.gov.uk)
UK Chief Medical Officers' physical activity guidelines for disabled children and disabled young people: methodology - GOV.UK (www.gov.uk)
Everybody active, every day: framework for physical activity
What works in schools and colleges to increase physical activity - GOV.UK (www.gov.uk)