Healthy Eating
Ideas and resources for schools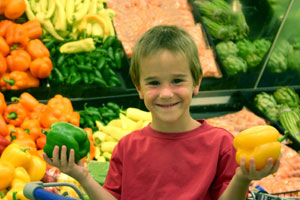 The Food in Schools Toolkit is a superb resource giving information, support and excellent practical tools to help schools with all aspects of food and healthier eating in school. It can be downloaded from the Food in Schools programme website.
Download Establishing a whole school food policy, written by the British Nutrition Foundation. This document will enable you to develop a policy that encourages all aspects of food in school to be brought together clearly, coherently and consistently.
The School Food Trust seeks to transform school food and food skills, promote education and health of children and young people and improve the quality of food in schools. The website provides many ideas and publications.
Which fruits and vegetables count towards the five a day? Have a look at the NHS Five a day campaign website and download the Fuel for living recipe booklet.
Active Kids Get Cooking is an annual challenge for schools, run by the Design and Technology Association with the British Nutrition Foundation.
The British Heart Foundation's website gives advice about keeping the heart healthy through a healthy diet and lifestyle.
The Food, a fact of life website from the British Nutrition Foundation looks at healthy eating, cooking and food skills, food and farming. It gives lots of ideas for resources and you can subscribe to a newsletter for lots of fresh ideas.
The Grain Chain is an educational website developed by the Home Grown Cereals Authority, the Federation of Bakers and the Flour Advisory Bureau. It shows how grains are grown and harvested, what happens to them before they reach our plates, and why they are good for us. The website also gives teachers' information and recipes.
Grow your own grub is a useful website with information and resources for school gardening clubs.
The British Nutrition Foundation's website has some useful information for teachers and others, including the Eatwell Plate.
The NHS Change 4 Life programme aims to help families improve their diet, exercise and attitude to good health, see Change 4 Life.