Emotional Health & Wellbeing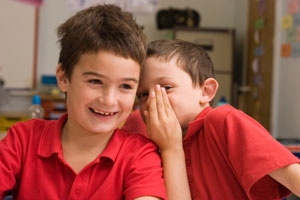 In this theme, the school promotes positive emotional health and wellbeing to help pupils understand and express their feelings and build their confidence and emotional resilience and therefore their capacity to learn.
Promoting children and young peoples emotional health and wellbeing, is a whole school approach. The guidance from Public Health England presents eight principals to promote emotional health and well being in schools. We have tried to capture these key themes in the Swindon Healthy Schools Mental Health Award.
The Social and Emotional Aspects of Learning (SEAL) curriculum supports this core theme. Many Swindon schools have embraced this curriculum.
SEAL in the primary school is at the heart of this core theme, but not to the exclusion of all else. Consideration needs to be given to behaviour and rewards policies, support mechanisms for staff and pupils and opportunities to participate.
The DCSF has lots of ideas and techniques to tackle bullying on its Don't suffer in silence website, as well as an anti-bullying pack.
A caring and respectful school ethos
Previously through the Jenny Mosley's Quality Circle Time programme, children and teachers are empowered to create a caring and respectful school ethos. The website provides lots of resources, free games and other materials. Over 50% of Swindon Primary Schools in Swindon are now using the Jigsaw programme to promote and support young people with positive emotional health. The Jigsaw programme aims to prepare children for life by helping them to understand and value who they truely are and how they relate to other people in this changing world.
Personal safety
Protective Behaviours UK is a charity promoting a practical down to earth approach to personal safety for individuals, families and communities of all ages and backgrounds. The Protective Behaviours website gives resources, details of training and much more.
Anti-Bullying
Many schools in Swindon focus on improving emotional and mental health when achieving their Healthy Schools Silver or Gold Award. this has encouraged young people to be more confident, raised attainment and attendance, but also influenced positive friendship groups.
Key resources schools used to facilitate this work are - SEAL (Social and Emotional Aspects of Learning) and Anti-Bullying work and through varying nurturing projects and programmes. Feeling safe in school is key to being able to learn effectively. A number of schools in Swindon achieved South West Anti-Bullying Accreditation. This scheme has now been replaced with the Anti-Bullying Quality Mark (ABQH).
Resilience
Resilience embraces the ability to deal more effectively with stress and pressure, to manage everyday changes and cope with disappointments and trauma. The link between resilsience, wellbeing and learning is being recognised: The Link between Wellbeing and Attainment, - provides a scientific evidence highlighting the link between health wellbeing and education attainment. It highlights the value for schools to promote health and wellbeing as an integral part of an effective school strategy.
Targeted Mental Health Service (TaMHS)
The Targeted Mental Health Service is part of the integrated locality service for children and young people between 0-19 who are in full time education and their families. It aims to ensure that the emotional and mental health needs of children and young people are appropriately dealt with at the earliest opportunity.
The service is provided by experienced and knowledgeable practitioners who are able to deliver a range of evidence based therapeutic interventions.